Solutions for new urbanism in India: Smarter, Sustainable and Humane Cities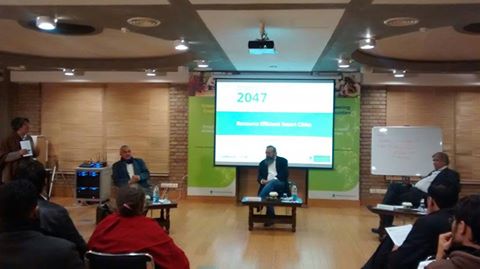 In a discussion that was centred around the much talked about topic of 'smart cities' in India at present; Professor Amitabh Kundu raised an important question- why the current plan for smart cities is focussing only on 100 'smart cities' and why can't 1000 'smart cities' be envisioned in this design. Dr. Kundu was speaking at the trialogue 2047 conducted by Development Alternatives (DA), where 2 other eminent speakers Mr. Sanjay Prakash and Professor K.T Ravindran also deliberated on 'Resource Concerns in Smart City development'. The conference hall of DA's World headquarters was packed with people, as these three eloquent speakers put forth their ideas and solutions to implement smarter, sustainable and greener cities – "Indian" models for a new urbanism.
From 31% in 2012, the population in cities is expected to reach 50% by 2030, adding 220 million people into the urban environment; demanding better provision of public services, such as clean air and water, public health and safety, and access to resources. A point that was agreed upon by all the speakers was that there was an excruciating need to revamp the design of the smart cities, as the current designs do not have a dimension of rationality and sustainability.
City development and growth will impact food security as more and more arable land is swallowed by urban areas and construction material that will place demands on the eco-system. Energy and water demands will also increase manifold.  "Can cities develop such that some of these needs are met within the settlements?" asked K.T. Ravindran. He further emphasised that every act of building is a violent act extracting and consuming resources; the solution lies in minimising the impacts by enhancing material and energy efficiencies and optimizing scale of cities.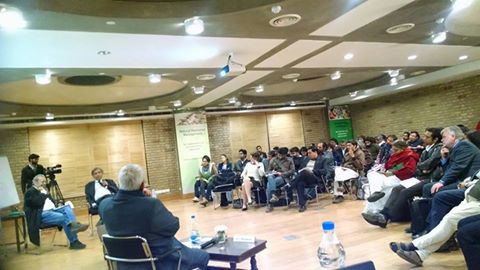 The speaker argued for the merits of smaller urban agglomerations as opposed to large metropolises. Dr. Kundu argued that migration rates into large cities had in fact, declined over the last decade and it was the small town that had seen a surge in both migration and market potential.  "What could make the small town appealing and captivating enough to attract more investments and improvement in the quality of life?" he asked. Mr. Sanjay Prakash identified 6 levels of break-down of the urban fabric as cities grow disproportionately, that is; loss of mobility, diversity, liveability, sustainability, identity and human productivity.
Mr. Sanjay Prakash cautioned that over dependence on "technology" for "smartness" is likely to create sanitised characterless urban jungles; where citizens would be subject to constant surveillance by the "big brother". He too asserted that authenticity, inclusiveness and resilience have to be integrated in the design of smart cities. While elaborating on 'sustainability and inclusiveness on smart cities; Professor Amitabh Kundu alluded to capital market and the new system of governance, and mentioned that devolution of Central & State government funds are being done without considering long term growth potential and sustainability.
trialogue 2047 brought to fore the need to rethink urban planning processes and move to a regional planning perspective, where citizens have a voice to influence policy makers and emphasised the heightened importance of resource efficiency, while keeping in mind rationality and sustainability. This discussion was 8th in a series of conversations on Nation Building, envisioning India at 100 years since independence. trialogue 2047 is a platform that encourages debates on seminal concerns that will shape our future.
Key speakers for trialogue 2047 held on 29th January were Professor K.T. Ravindran, Dean Emeritus of RICS School of Built Environment; Professor Amitabh Kundu, Professor Emeritus JNU and Mr. Sanjay Prakash, MD, Studio for Habitat Futures.q