Economic Development through Women Empowerment
Yes, that's true, you read it right! Over the last couple of years, women, particularly in the rural areas have started to take upon  themselves the task of ensuring income generation and local economic development in their villages. The factors responsible for this transition are not only widespread unemployment, but the fact that women now realise the strength and capability they possess. Given a chance to stand on their feet, they are day-by-day, becoming more and more pro-active.
One such woman, who exemplifies women empowerment in India is Sangeeta Jatav of a small village – Bisrakh in Gautam Budh Nagar of Uttar Pradesh. As a young girl, Sangeeta had always dreamt of being employed and financially independent. But due to financial constraints on her family, she was married early, and thus, found herself surrounded by more responsibilities of household chores and family commitments. Her hobbies and aspirations became redundant and took a back seat. Moreover, a year ago, Sangeeta's husband, a driver by profession met with an accident, which led to major financial implications on her family.
A major transition, however, came in her life, when TARA (a Social Enterprise of the Development Alternatives Group) came with its 'Literacy to Self-Reliance' programme in her village. The programme, supported by the Noida Power Company Limited (NPCL) under its Corporate Social Responsibilty (CSR), promotes women empowerment, by making illiterate women literate and subsequently, provides them with income generation opportunities (through vocational, life skills and enterprise development training). Over 4500 lives have been impacted through this programme, so far.
Thus, with some spare time around, Sangeeta found an opportunity to fulfill her childhood aspirations and enrolled herself in the nearby TARA Akshar+ classes (for literacy). She further continued her participation in the programme by acquiring life skills, vocational skills and enterprise development training in tailoring and stitching. After undergoing the training in 2013, Sangeeta started stitching clothes for friends and family, but due to lack of experience in the job market, she lacked the confidence of starting her own enterprise.
Despite the financial crisis that she and her family were going through, Sangeeta was determined to help her family. With further support from TARA & NPCL in 2014, she learnt how to prepare a business plan and groom herself to set up her tailoring enterprise. Within a month of the intervention and support, Sangeeta had set up her tailoring enterprise, which was inaugurated by officials from NPCL.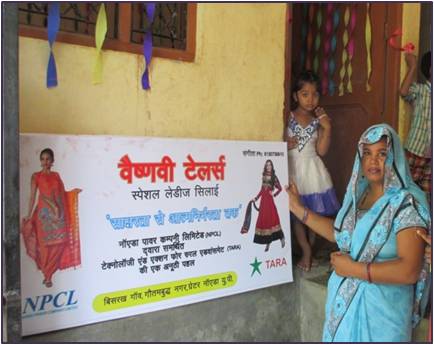 She now, runs a successful tailoring business and wishes to open a training centre during summer vacations, for school and college going students in six months' time. Today, there are a number of such Sangeetas, who have ventured into entrepreneurial activities, making a living not only for their families, but also contributing to economic development within their villages.q
Sunanda Jain
sjain1@devalt.org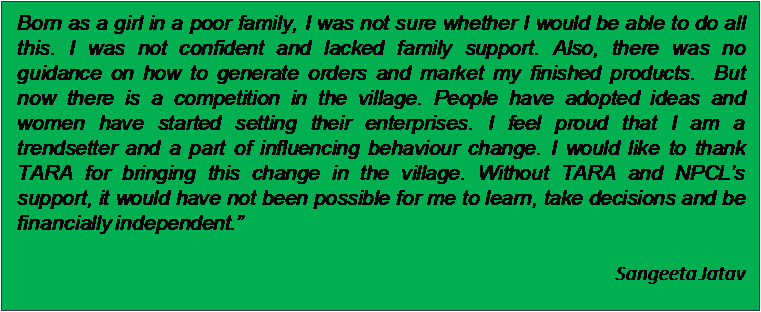 The views expressed in the article are those of the author's and not necessarily those of Development Alternatives.